in which yesung has a beautiful night,,shownu takes a break, highlight returns, girl groups plan big comebacks & more
read on, stans, read on
Byeongkwan of A.C.E. announced a temporary hiatus while he recovers from a case of shingles.
---
Naeun of Apink officially signed with YG Entertainment as an actress.
---
Bibi released a music vide for Birthday Cake.
---
Bling Bling released a spoiler video.
---
Pre-debut boy group BLITZERS released new teaser images.
---
Juyeon and New of The Boyz were revealed as the new hosts of the radio show Listen.
---
DKB released an It's Live version of ALL IN.
---
ENHYPEN released a choreography video for Drunk-Dazed. They also shared a reaction video.
---
EVERGLOW announced plans for a May comeback.
---
Baekhyun of EXO and Taeyong of NCT teamed up for a new song called Monroe.
---
fromis_9 announced plans for an upcoming comeback.
---
Sowon of GFriend released a beautiful cover of SUZY's Pretend.
---
Highlight released a beautiful new music video for NOT THE END. They also performed a suit dance of the song.
---
Yebin of Hot Issue performed a role model dance cover montage. In other news, the girls released a relay version of GRATATA.
---
ITZY released a moving dance practice video for Mafia in the Morning.
---
LIGHTSUM teased their debut with a new trailer video.
---
Moonbyul of MAMAMOO and Bumkey took us behind the scenes of the recording for their duet. In other news, the group's MV for Starry Night became their first music video to exceed 100 million views on YouTube.
---
MONSTA X announced that Shownu will not participate in their upcoming comeback. He is taking a break from promotions while he continues to recover from the complications of a retinal detachment he suffered last year.
---
Mark of NCT released a cover of Justin Bieber's Peaches. In other News, NCT Dream's new album has already exceeded 1 million presales.
---
NU'EST released another choreography video for Inside Out.
---
Binnie of Oh My Girl starred in a new teaser video.
---
Leedo of ONEUS starred in a new teaser.
---
P1Harmony gave a few performances on Cool Live radio.
---
Punch teased her new music video.
---
Rocket Punch announced their first comeback scheduled for May 17, 2021.
---
Taemin of SHINee unveiled the first teaser for his upcoming solo album.
---
Sunmi and BamBam of GOT7 released a cute photo in celebration of their shared birthday.
---
Yesung of Super Junior released a new solo music video, entitled Beautiful Night.
---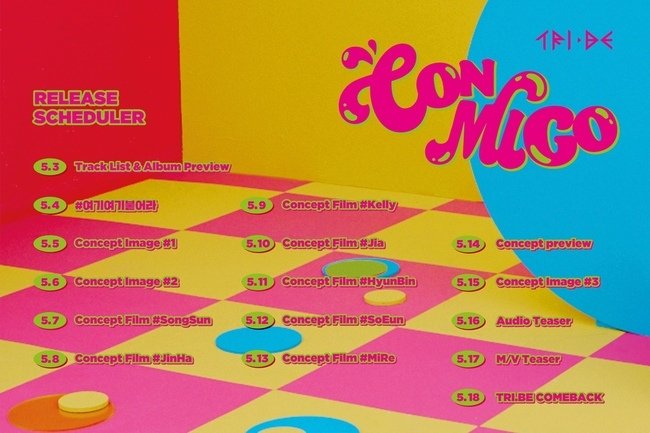 TRI.BE set the schedule for their upcoming comeback.
---
Twice announced plans for a June comeback.
---
TXT set the schedule for their upcoming comeback.
---
Kim Wooseok of UP10TION showed off his soft side in a photoshoot for 1st Look.
---
VAV released a performance clip for their new OST.
---
WJSN: The Black released new teaser photos.
---
ab6ix astro ATEEZ baekhyun blackpink bts chung ha cix cravity dreamcatcher DRIPPIN exo gidle golden child got7 hoppipolla ikon itzy iu Kang Daniel mamamoo MCND mirae MONSTA x nct Oh My Girl Oneus ONF OnlyOneOf Pentagon PIXY Purple Kiss Red Velvet Seventeen SHINEE stray kids Super Junior T1419 TRI.BE Twice Up10TION Verivery Victon WEi WJSN