Every day until the end of March, we'll highlight one of our favorite boy group singers.
Dramatically swanning his way into the #11 spot is none other than…
SHINee's Lee Taemin.
BG and I have this joke (kind of) where we kid around (sort of) about Taemin being an alien. He simply is not of this world.
Like… you want me to believe that's an actual human being? Unrealistic.
I'm pretty sure that everyone who has ever seen him live in concert and therefore spent more than fifteen minutes in his presence will live an additional fifteen years longer than maybe they were going to beforehand. Breathe in his air and watch your skin clear up. If he smiles in your direction, that's ten years of good luck right there, my friend. Maybe 20. Play the lotto the next day.
Our joke is (mostly) a joke but sometimes I wonder with how absolutely flawless is. I'm not just talking about his stunning looks–he is absolutely, all-around stellar.
While there may be dancers who hit harder steps than him and singers whose notes might sail higher, there is no other performer quite like him. He's got it all, and watching him on stage is a truly magical experience.
We also say things like when he dances in MOVE, it almost looks like he's doing it on accident. Like he's just kind of standing there or taking a step forward and just effortlessly dancing. By contrast, in Famous, he is so sharp and deliberate that it gives me whiplash to watch him–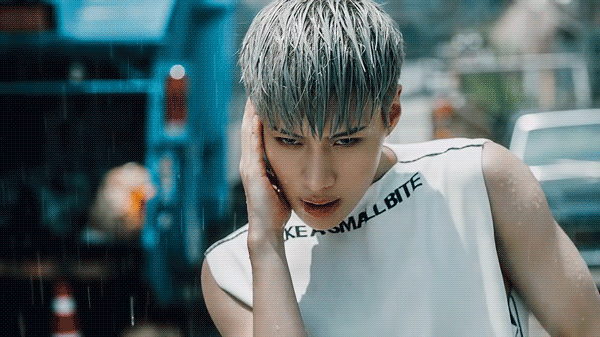 Oh. Ooops. This is an article about his voice, sorry.
Fortunately he is every bit a diverse singer as he is a remarkable dancer. Taemin's voice knows no bounds, just like the rest of him.
It's got a sweet quality to it, a unique color that no other singer in kpop has. No matter what he's singing, from sultry and sexy WANT to feelings-rich, sentimental Under My Skin, his voice fits in perfectly.
It never loses that unique texture, switching from candy to velvet with ease–which makes tracks like Criminal particularly deadly. You get him in sweet tunes with SHINee like Replay and Countless and forget that if he wanted to, he could go for the throat with that same voice in solos like HOLY WATER and Thirsty.
His voice carries the same fluidity as his dance, bringing that whole vibe right back around full circle. I challenge you to find another absolutely stellar all-around performer like Taemin, but I sincerely doubt you could.
Because of the way his voice plays into that perfect trifecta that makes Taemin the (totally human, not at all from outerspace, life-giving extra-terrestrial) fabulous performer he is, he is #11 on our list.
Usually we cap out the playlists at five or so songs we love about who we're writing about but this is Lee Taemin. He deserves more than that.
ab6ix astro ATEEZ baekhyun blackpink bts chung ha cix cravity dreamcatcher DRIPPIN exo gidle golden child got7 hoppipolla ikon itzy iu Kang Daniel mamamoo MCND mirae MONSTA x nct Oh My Girl Oneus ONF OnlyOneOf Pentagon PIXY Purple Kiss Red Velvet Seventeen SHINEE stray kids Super Junior T1419 TRI.BE Twice Up10TION Verivery Victon WEi WJSN