in which ateez tops the charts, bdc rides back, stray kids sets a personal best, sungjin says a temporary goodbye & more
read on, stans, read on
Eunji of Apink and Yoseob of HIGHLIGHT shared a live performance of the 2021 version of Love Day.
---
ATEEZ new album topped the Hanteo and Gaon physical album charts last week.
---
BDC released their new music video, Moon Rider.
---
Rosé of BLACKPINK created a special Apple Music playlist in honor of International Women's Day.
---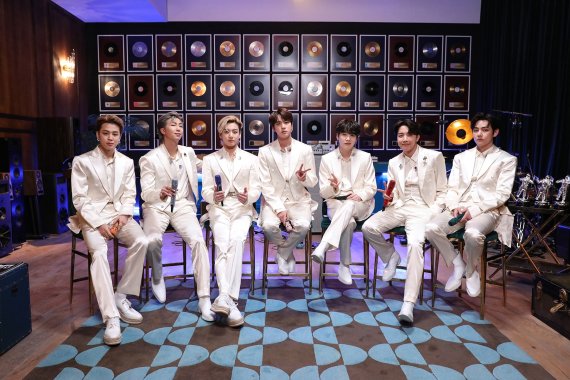 BTS will become the first kpop group to perform on the GRAMMY's.
---
Pre-debut group C9ROOKIES introduced member Ayden.
---
CIIPHER released a track list for their debut mini album.
---
CIX tested their MBTI types.
---
Sungjin of Day6 enlisted in the military. His discharge date will coincide with the group's 7th anniversary in 2022.
---
Minseo of DRIPPIN starred in the group's latest promo video.
---
Hani from EXID and Im Nayoung of I.O.I. posed together for 1st Look.
---
Youngso of Hoppipolla released a finger-style guitar cover of Daft Punk's Get Lucky.
---
iKON took us behind the scenes of their jacket photoshoot.
---
Lucy shared a live clip of Stove.
---
Pre-debut girl group MAJORS shared two MV trailers: Spit it Out and Stronger.
---
MCND shared a Long Take version of Not Over, and an It's Live performance.
---
Junhyuk of MIRAE starred in a new debut teaser video.
---
MY.st shared a teaser for their new MV.
---
PENTAGON released a concept video for Love or Take.
---
PIXY released a new performance video version of Wings.
---
QODES shared a teaser for new their new MV OTW.
---
SB19 released a teaser for What?
---
Stray Kids' God's Menu became their first music video to rack up more than 200 million views. In other news, cosmetics brand CLIO has confirmed that the boys will remain their models; however, for now, Hyunjin will no longer be a part of their photoshoots.
---
Treasure's k-drama parody web series received more than 2 million views in just three days.
---
VERIVERY got cute in a new version of Get Away.
---
Woodz gave us a peek at his upcoming MV Feel Like.
---
Big Band Entertainment's new group WOW released the song Miss U.
---
---
ab6ix astro ATEEZ baekhyun blackpink bts chung ha cix cravity dreamcatcher DRIPPIN exo gidle golden child got7 hoppipolla ikon itzy iu Kang Daniel mamamoo MCND mirae MONSTA x nct Oh My Girl Oneus ONF OnlyOneOf Pentagon PIXY Purple Kiss Red Velvet Seventeen SHINEE stray kids Super Junior T1419 TRI.BE Twice Up10TION Verivery Victon WEi WJSN