in which kim wooseok gets a sweet taste of victory, miyeon gets the mic, idol becomes a team effort, yugyeom dances back & more
read on, stans, read on
Members of ASTRO, PENTAGON and VICTON joined forces for a cover of Idol.
---
Hongjoong of ATEEZ showed off a new do in fresh promo photos.
---
Lisa of BLACKPINK cemented her style icon status, having been named one of the judges for the ANDAM Fashion Award.
---
J-Hope of BTS donated 150 million won to the Green Umbrella Child Fund for children with disabilities in honor of his birthday.
---
Cherry Bullet put on pink for a Countdown performance of Love So Sweet.
---
Chung Ha performed her first live stage of Bicycle on Countdown.
---
CIX returned to Countdown with Cinema.
---
DREAMCATCHER performed Wind Blows on Countdown for the first time.
---
Miyeon of (G)I-DLE debuted as the emcee and performed a duet with Nam Yoonsu on M Countdown.
---
Bomin and Jaehyun of Golden Child got sporty for promo photos for Breathe.
---
Yugyeom of GOT7 announced his new contract with Jay Park's label AOMG with a dance cover of Franchise.
---
HyunA donned a denim bodysuit for a Countdown performance of Good Girl.
---
iKON revealed the title of their new single, Why Why Why, in their latest teaser poster.
---
ITZY looked princess pretty in a new photoshoot with Singles magazine.
---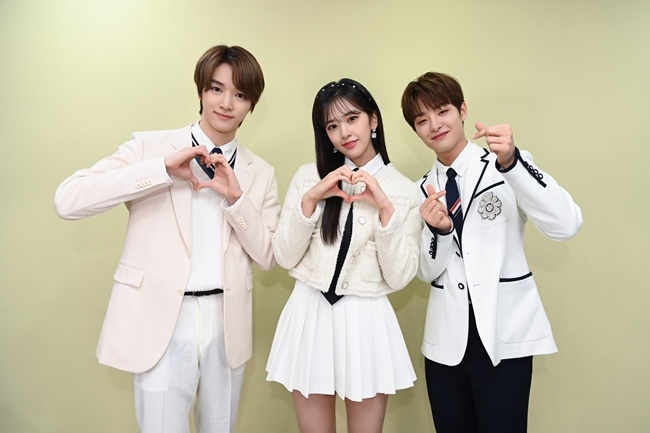 Ahn Yujin of IZ*ONE, Sungchan of NCT and Jihoon of Treasure were announced as the new emcees of Inkigayo.
---
Kang Daniel made his first music show stop for his Paranoia promotion on Countdown.
---
Kingdom made their very first music show appearance on Countdown with Excalibur.
---
AM of Limitless released a solo song entitled I Still Love You.
---
Lucy rocked the Countdown stage with Hero.
---
I.M. of MONSTA X provided an audio sample of his new solo mini album Duality.
---
Tayeong of NCT danced his way onto Instagram and already racked up 1.4 million followers.
---
J.DON of N.Flying teased his new MV Clicker.
---
ONEUS performed Rewind on the Countdown stage.
---
ONF experienced a system error in the latest teaser for their MV.
---
Wendy of Red Velvet showed off strawberry blonde locks in a new photoshoot for Marie Claire.
---
Yeonhee and Dahyun of Rocket Punch covered Rewind by Lovelyz.
Key of SHINee looked red hot in the latest teaser for their MV.
---
Sunmi spoiled us on her new single album.
---
T1419 brought ASURABALBALTA back to the Countdown stage.
---
TRI.BE gave their first live performance ever on Countdown.
---
Momo of Twice kicked off their Performance Project with a dance video.
---
Kim Wooseok of UP10TION took home his first music show win for Sugar.
---
Gyeheon and Yeonho of Verivery put on their suits for new teaser photos.
---
And last but not least, here is the password for our ATEEZ GIVES ME FEVER GIVEAWAY
ATINY
You can enter it on our giveaway page.
---
ab6ix astro ATEEZ baekhyun blackpink bts chung ha cix cravity dreamcatcher DRIPPIN exo gidle golden child got7 hoppipolla ikon itzy iu Kang Daniel mamamoo MCND mirae MONSTA x nct Oh My Girl Oneus ONF OnlyOneOf Pentagon PIXY Purple Kiss Red Velvet Seventeen SHINEE stray kids Super Junior T1419 TRI.BE Twice Up10TION Verivery Victon WEi WJSN