in which aespa comes back, iu gets the win, lay produces, momoland gets all wrapped up & more
read on, stans, read on
aespa unveiled their beautiful new video for Forever.
---
Rachel of April graduated from high school.
---
ATEEZ has confirmed that they will have a comeback on March 1, 2021. Their label also shared the news that although Mingi is featured on the new album, he will remain on hiatus during the comeback activities.
---
BOYHOOD was back on Music Bank with Luxury Big House.
---
BXK was back and cute as ever with FLY HIGH on Music Bank.

---
Cherry Bullet returned to Music Bank with Love So Sweet. Chaerin also celebrated her graduation.
---
CIX performed two of their new songs on Music Bank: Cinema and Young. The boys also pulled out the props for a special clip of Cinema.
---
CRAVITY sported their racing jackets for a stage of My Turn on Music Bank. Minjee also celebrated his graduation.
---
Dylan of D-CRUNCH celebrated his graduation.
---
DreamCatcher gave a powerful performance of Odd Eye on Music Bank. The girls were also number on Gaon's physica album sales chart.
---
Eunjo of DREAMNOTE celebrated her graduation.
---
Cha Junho of DRIPPIN showed off his vocal talents with a cover of Woohyun Nam's Nod Nod.
---
Lay from EXO released a new studio album called Producer. Also, Kai was unveiled as the new spokesmodel for Blackyak Climbing Crew.
---
Golden Child was white hot performing Burn It on Music Bank.
---
JB of GOT7 racked up more than 500,000 subscribers on his YouTube channel in just two days!
---
Hong Eunki was on the Music Bank stage again with On&On.
---
HyunA rocked her lace tights for her stage of I'm Not Cool on Music Bank.
---
IU took home first place on Music Bank with Celebrity earning 4,558 points. She also received the triple crown for sweeping the number one spot on all three Gaon digital charts.
---
IZ*ONE shared new promo images for their upcoming PepsiXStarship single. In addition, the girls announced an Online Fan Party to be held on Universe on February 28 2021.
---
Kang Daniel gave a haunting peek at his upcoming Paranoia comeback.
---
Kingdom released another trailer for their upcoming debut MV Excalibur.
---
Yeojin of Loona celebrated her graduation.
---
MIRAE introduced another new member: SONDONGPYO.
---
MOMOLAND premiered their new MV Wrap Me in Plastic, a collaboration with CHROMANCE.
---
Sunshine of Nature celebrated her graduation.
---
NiziU became the new face of H&M in Asia.
---
Mimi of Oh My Girl teamed up with DJ Redef for an OMG Rap Mix.
---
ONEUS rocked leather for their performance of No Diggity on Music Bank.
---
P1Harmony began airing a five-part film entitled P1H: The Beginning of a New World in Korea today.
---
Pink Fantasy lavished on the lemon yellow for their performance of Lemon Candy on Music Bank.
---
Purple Kiss covered your Disney favorites in a cute new video.
---
Bomin of REDSQUARE celebrated her graduation.
---
SECHSKIES and You Heeyul teamed up for Don't Look Back.
---
Jun of Seventeen released a new solo song called Crow.
---
ONEW of SHINee released 그림자 [이별유예, 일주일 OST Part.3 (A Week Before Farewell OST Part.3) today.
---
IN of Stray Kids celebrated his graduation.
---
T1419 stood out in neon performing ASURABALBALTA on Music Bank.
---
Treasure appeared on Sketchbook with My Treasure. Bang Ye Dam also graduated!
---
Soohyun and Hoon of U-KISS gave off frosty vibes with their stage of I Wish on Music Bank.
---
Kim Wooseok of UP10TION showed off his soft side with Sugar and What Are You Up ToTonight? on Music Bank.
---
N of VIXX announced plans to appear in tvN's Drama Stage 2021, which debuts in March.
---
Lucy of Weki Meki celebrated her graduation.
---
Mino of WINNER became the face of contemporary fashion brand SONGZIO.
---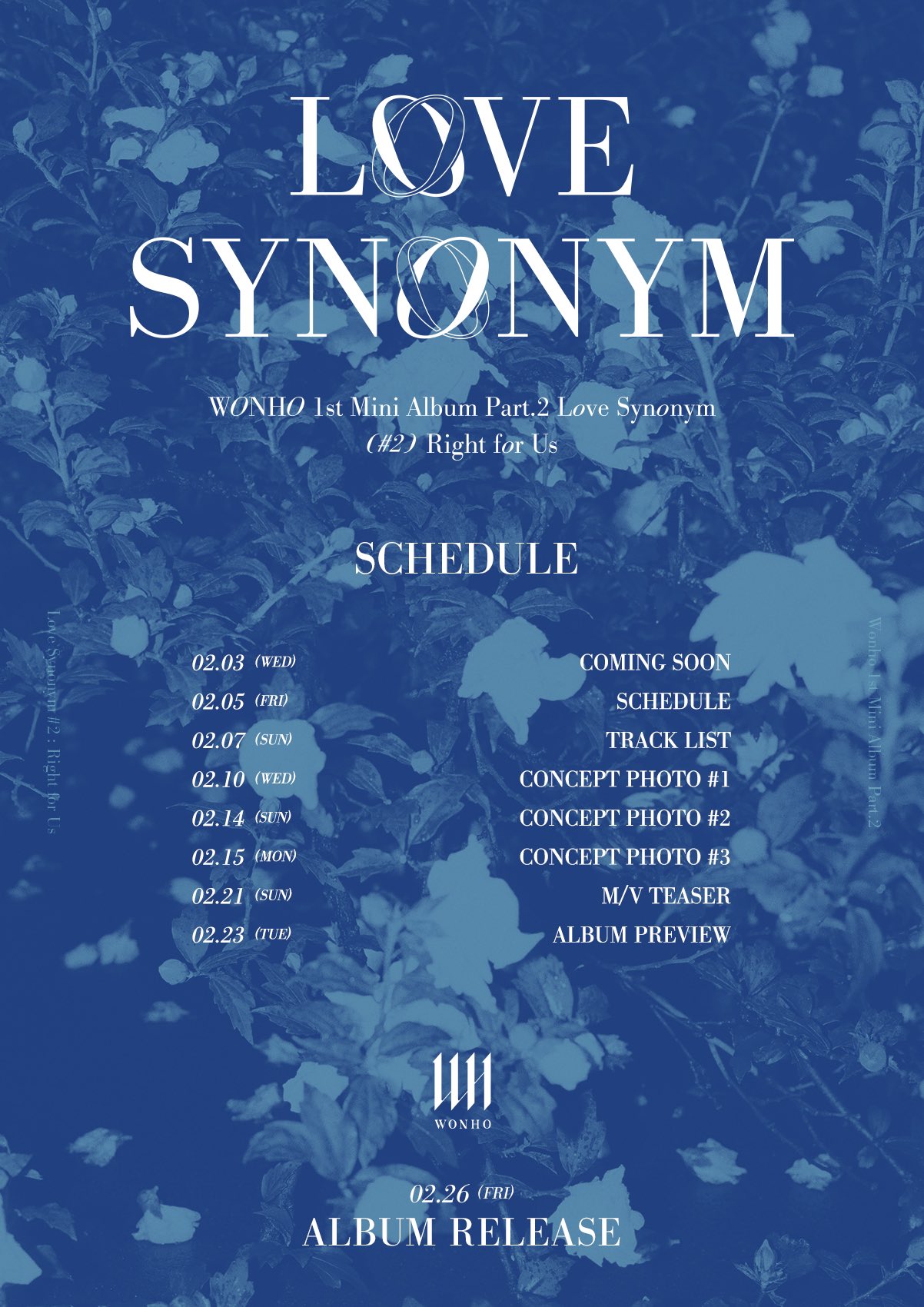 Wonho released a schedule for his upcoming comeback. In other news, we're excited to announce that we will be giving away a copy of the new album. Stay tuned–the giveaway will launch on Monday.
---
Youha tied up another performance of Abittipsy on Music Bank
And last but not least, here is the password for our V Is My Valentine giveaway: I PURPLE YOU. You can add it to your entry on our giveaway page.
---
ab6ix astro ATEEZ baekhyun blackpink bts chung ha cix cravity dreamcatcher DRIPPIN exo gidle golden child got7 hoppipolla ikon itzy iu Kang Daniel mamamoo MCND mirae MONSTA x nct Oh My Girl Oneus ONF OnlyOneOf Pentagon PIXY Purple Kiss Red Velvet Seventeen SHINEE stray kids Super Junior T1419 TRI.BE Twice Up10TION Verivery Victon WEi WJSN